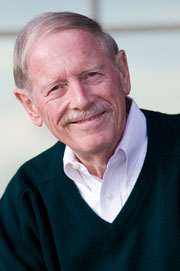 Gary Smith passed away on Friday, July 3, 2015 after a short bout of pneumonia in Flagstaff, Arizona. He died peacefully surrounded by his family.
Gary Smith obituary | Gary Smith biography – In His Own Words
A memorial service is planned for Sunday, July 12th at 3PM at the DoubleTree San Jose (2050 Gateway Place, San Jose, California, 95110). In order to have enough chairs and coffee, would you kindly indicate below the number of people in your party who may attend? Children are welcome and encouraged to come to support Casey.  A separate room will be available for them.
This memorial is intended for family, members of AA and Al-Anon and the Navy family. There is an earlier memorial planned for Sunday morning for the EDA industry.
We want this to be a celebration of Gary's life.  He wouldn't want suits or formal clothing.  Instead, please wear very CASUAL clothes plus add something ORANGE — his favorite color.
This is to be a celebration of Gary's life.  Gary would be bored if this was about how great he was, etc.  Instead he'd want jokes, funny stories where he messed up, and other reminisces.
To provide a loving memorial for Casey and Gary's granddaughters, Rachel and Shannon, Lori Kate and the family kindly request that you share your favorite stories and/or pictures to [email protected].
To contact Lori Kate, please use [email protected].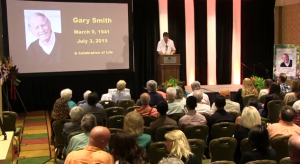 In lieu of flowers (Lori Kate, her mother and brother are allergic to many kinds) please consider making a donation in honor of Gary Smith to one of the following entities:
AA
Gary celebrated 32 years of sobriety on July 1st.
For members of AA, please send a check to
Intergroup Central Office (make checks payable to)
274 E. Hamilton Ave., Suite D
Campbell, CA 95008
Add a note in memory of Gary Smith
---
Al-Anon
Gary also was an active member of Al-Anon for over 11 years.
For members of Al-Anon, please make checks payable to SCV-AFG and send to
Intergroup
1 W. Campbell Ave, Room Q82
Campbell, CA 95008
Add a note in memory of Gary Smith
---
Gary had a deep passion for his time at the Naval Academy. The class of 1963 Center for Academic Excellence is a fund that supports the mission of the Naval Academy by providing the highest quality academic support programs for all midshipmen seeking to improve their academic performance.
Make checks payable to Class of 63 CAE, Naval Academy Foundation
United States Naval Academy
Center for Academic Excellence
Levy Center
Mail Stop 6c
101 Cooper Road
Annapolis, MD 21402-5027
---
Casey Smith College Fund
Casey is an engineer like his dad. He loves to tinker, code and build things.
To make a gift, please send a check payable to NEST Direct Plan, Acct # 756856299-01 (note section). It is a Nebraska Educational Savings Trust. Please send the check to
Gary Smith EDA
P.O. Box 2990
Santa Clara, CA 95055